Posted January 10, 2017
Fairmont Supply launches new website
Fairmont Supply announced the launch of a new e-commerce website with expanded products and brand resources.
---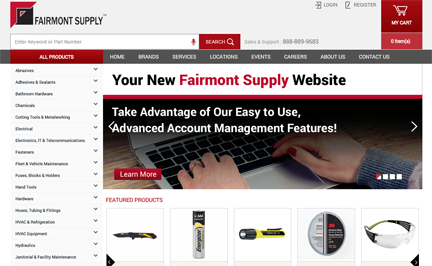 The new Fairmont website offers powerful search capabilities making it easy for users to shop and buy a variety of specialty products in the areas of safety, general industrial, power and hand tools, hose and rubber, material handling and processing, mining, pipes, valves, fittings, bearings, power transmissions, electrical, and more.
"Our new website is all about making it easy to do business with Fairmont Supply as we serve national MRO supply needs across many different industries," said executive chairman Rudi Strobl.
Fairmont Supply's e-commerce site was designed with the industrial supply buyer in mind and allows for a personalized shopping and buying experience, the company said. Online accounts give users benefits such as special pricing, account dashboards, order history, purchasing agent management, product availability, shopping lists and more. Fairmont offers many top brands as well as economically priced alternatives.