Posted June 27, 2017
Radians to expand Memphis operations
Radians Inc. recently broke ground on a new addition to its warehouse and offices in Memphis, Tennessee.
---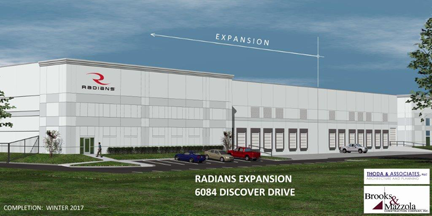 Completion of the new addition, which is planned for the end of 2017, will allow Radians to expand and enhance capabilities as a result of increased business volume. The addition will also enable the manufacturer of personal protective equipment to relocate manufacturing from its Wareham, Massachusetts, manufacturing facility to Memphis.
"Radians continues to see increased growth in both our USA manufactured and imported safety products. We are excited that our growth leads to new jobs and to the success and growth of the greater Memphis community," said Radians CEO, Mike Tutor.
"We are very excited about our Memphis expansion and our other expansions in 2017," added Bill England, president. "In addition to our Memphis expansion, we are currently increasing our overall floor space at our garment manufacturing facility in Thomasville, North Carolina, by almost 50 percent. Plus, we recently opened a new distribution center in British Columbia, Canada."