Posted July 11, 2017
DPA Buying Group names award winners
The DPA Buying Group announced the winners of its industrial distributor and supplier of the year awards and its industrial excellence award.
---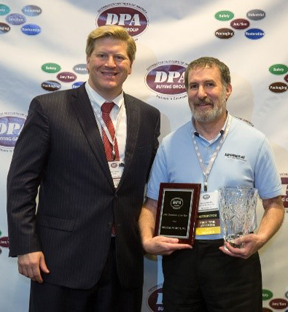 Zac Haines, CEO of DPA Buying Group, presented the Distributor of the Year Award to Michael Bunks, Sosmetal Products
The DPA Industrial Distributor of the Year Award was given to Sosmetal Products, Philadelphia, while the DPA Industrial Supplier of the Year Award went to Makita U.S.A., Mt. Prospect, Illinois.
DPA's Industrial Excellence Award is given to a person or company that demonstrates
extraordinary support of DPA and excellence in the industrial industry. This year's recipient was Aervoe Industries, Gardnerville, Nevada.
The DPA Buying Group is a North American buying and networking organization comprised of over 700 distributors and 200 preferred suppliers in the industrial, janitorial, safety, packaging and restoration product industries.