Posted July 28, 2016
IBC earns Honda performance award
IBC announced its selection as a Honda 2016 Performance Excellence Award winner.
---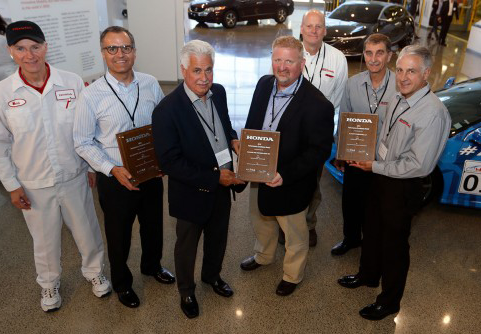 Left to right: Mark Lackey, Honda; Bob Linderman, IBC; John Bonacorsi, Haggard & Stocking Associates; Jeff Haggard, Haggard & Stocking Associates; Kent Money, McAuliffe's Industrial; Mike Thiergartner, McAuliffe's Industrial; Jim Fitzgerald, McAuliffe's Industrial
With this award, Honda recognizes suppliers for meeting or exceeding performance standards within categories such as quality, cost and delivery targets, and service expectations. From its team of over 5,000 suppliers, Honda honored 18 vendors that provide indirect products and services to five Honda manufacturing plants in Ohio and Indiana and corporate operations at Honda North America Inc.
To illustrate its commitment to developing mutually successful relationships with its suppliers, Honda has made its "We Are Team Honda" initiative part of its corporate strategy. The Performance Excellence award is part of this effort. "This initiative has included multiple steps to strengthen our working relationships with all of our [suppliers] to become even "closer" partners," said Monica Oliverio, department manager of the North American Indirect Procurement Department at Honda North America.
IBC works as an integrator to support Honda in multiple product categories. Working in partnership with McAuliffe's Industrial and Haggard & Stocking Associates, IBC has earned a reputation for flexibility and responsiveness through its ongoing management of MRO products and services for Honda's plants in Ohio and Indiana.
"The purpose of the awards is to recognize suppliers that are bringing us value and helping Honda to advance our capabilities and deliver a better vehicle to our customers," said Oliverio. "We want our suppliers to truly grow with us as we continue to expand and advance our operations in North America."
Bob Linderman, director, strategic account management for IBC, said the organization is grateful to be recognized by Honda, a world-class leader in manufacturing and innovation. "We sincerely appreciate this prestigious award and the opportunity to work with so many passionate and dedicated Honda associates," Linderman said. "We look forward to introducing new cost-down opportunities as well as streamlining processes."
In 2015, Honda manufactured a record 1.86 million automobiles in North America, which led to the purchase of $27.6 billion in parts and materials in the region from 785 parts suppliers, also an all-time annual record. Parts purchasing for Honda plants in Indiana and Ohio last year totaled $12.7 billion from suppliers in North America, including more than 230 in Ohio and Indiana.
As a Minority Business Enterprise (MBE), IBC helps its customers meet diversity spend goals and represents strong, like-minded independent distributors across a network of 250 branch locations in the U.S., Canada, Mexico, and the Caribbean. Both committed to diversity and to serving the local communities where they operate, IBC and Honda have a long-standing relationship that's resulted in numerous successful initiatives over the years.
"The fact that Honda takes the time to recognize the efforts of its suppliers—namely those companies whose goals and philosophies are strategically aligned with its own—is excellent," said Ron Nuñez, president and COO of IBC. "We sincerely appreciate the opportunity to work and grow alongside this well-respected, global organization."