Posted October 18, 2016
Harrington Hoists unveils new logo
Harrington Hoists Inc. recently unveiled a new corporate logo which is the first step in its strategy to unify branding within the KITO Group Companies of Harrington Hoists Inc., Peerless Industrial Group, KITO Canada Inc. and KITO Do Brasil.
---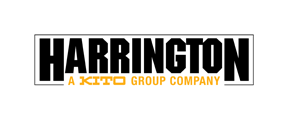 The new logo incorporates Harrington's original brand with parent company, KITO Corporation, providing consistency in communications to end-users, partners, investors and media. "All of the Americas companies will contain the KITO logo and corporate colors," said Bret Lussow, executive vice president Business Development. "This rebranding reflects the future vision of our parent company which is for all of their Americas companies to become more cohesive as a group to better serve our customers."
While the logo change represents the company's global unification, the company said its core values remain the same, which is to offer the highest quality products and to enhance the customer experience by exceeding their expectations on every level.