Posted October 26, 2016
Bayco 10,000 lumen LED work light
Bayco Products announced a new high lumen Bayco model SL-1530 10,000 lumen LED Dual Fixture Work Light on Tripod Stand.
---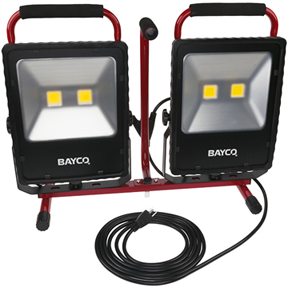 The Bayco SL-1530 LED Work Light has dual light fixtures that can be directed independently of each other allowing users to position each fixture exactly where light is needed. The two side-by-side LED fixtures are attached to a base unit that can be removed easily from the tripod stand and placed on the floor for low angle illumination. The included 8' foot tripod stand extends the dual fixtures up to 8 feet off the ground for the largest projects out there.
Each work light fixture has a tempered glass lens, and is powder-coated for long wear and durability with a multi-fin heat sink design keeping each fixture cool to the touch. The comfort-grip handles makes transporting and positioning this work light a snap, and the center-mounted handle aids in removing, mounting and moving the base unit. The model SL-1530 work light has a 12' 18/3 SJTW cord for all-weather use and Bayco stands behind their included 1 year limited warranty.
"10,000 lumens is a tremendous amount of light for those large scale jobs and our new SL-1530 provides the added versatility of both high and low illumination in a compact portable work light that is easy to set-up and use at any job site" says Russell Hoppe, Marketing Manager for Bayco. "The secret to the success of a high-lumen work light is in delivering high quality and durability at an affordable price. The SL-1530 LED work light will undeniably light up your work space large and small all at a price point starting in the low $200's (USD). We take our responsibility as a manufacturer to reduce the burden that delivering high-lumens has historically placed on the pocketbook very seriously. Now that's a secret worth sharing."
Bayco SL-1530: 10,000 Lumen LED Dual Fixture Work Light on Tripod Stand
Two 50 Watt AC powered LED work lights
Each cool to the touch LED produces 5,000 lumens (combined 10,000)
Multi-angle tilt and swivel fixture design places light where needed
Included tripod stand extends lights up to 8 feet high
Light fixture base unit can be removed from tripod stand for low angle illumination
12 feet of 18/3 SJTW cord
Powder coated for long wear and durability
Tempered glass lens