Posted April 7, 2021
Mayhew launches new line of cable ties
Mayhew Steel Products announced a new line of made in the U.S.A. cable ties.
---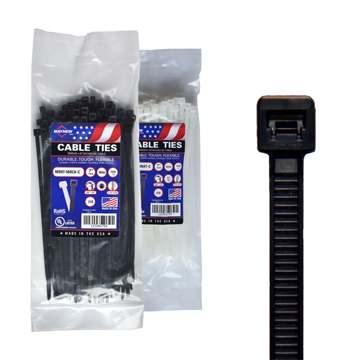 These standard ties, constructed of solid-piece 6/6 nylon, are available in numerous sizes and colors, with varying tensile strengths, operating temperature ranges, and UL Type rating(s), which will accommodate diverse applications and bundle diameters. Providing durability and reliability, each cable tie features a flexible self-locking design that allows for quick usability and secure fastening for whatever you need to pack, organize, contain, or transport.
Additionally, the cable ties possess a superior pawl design to allow for easy insertion and pull through, while the tough serrated edges provide secure and precise locking. The grasps on each end enable the user to grip and tighten the cable tie more securely and the nylon material resists abrasives and chemicals, such as oils and solvents.
"There are few cable ties available in the market that are made in the U.S.A., which we saw as an opportunity that would allow for us to provide such a useful item but with the option of made in the U.S.A dependability, reliability, and strength," said Eric Mills, VP sales and marketing, Mayhew. "This new line of cable ties is high-quality and industrial grade, making them ideal for our customers working in the industrial, automotive, hardware, and construction markets."