Posted March 3, 2016
Wooster Brush recognizes 50-year employee
Don Kosier is celebrating 50 years of service with The Wooster Brush Company.
---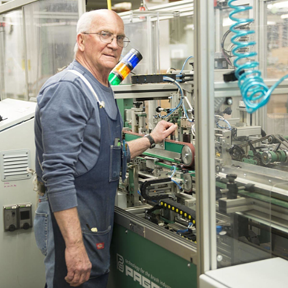 Born in Wadsworth, Ohio, Kosier and his family moved to Wooster when he was young. After graduating from Wooster High School, he served in the Navy for 3½ years before coming back home and joining Wooster Brush in 1966.
In the military, he was part of "Kiddie Cruise," a program for high school graduates under age 18 who could serve with their parents' permission until age 21. Trained as an electrician, Kosier uses many of the skills he learned during his service time today.
"I started out in Maintenance, and then an opening came up and I was assigned to second shift setup," he said. Today he is responsible for machine operation in Brush Setup on first shift, where he troubleshoots equipment and does machinery adjustments required for different brush sizes or styles.
"We've completely changed this department," Kosier said of the modern renovations made in the Wooster Brush factory. "These are all new machines compared to what I ran [when I started]. We used to have machines that were all mechanical, and these are computer-generated."
Kosier's department was overseen by Bill Becker and Don Hershberger, who shared supervising duties, when he first began working in Brush Setup.
His current manager, Lynn Croskey, respects Kosier's expertise on the job. "When it comes to brushes, the man's seen everything at least once," Croskey said. "He knows how to make a brush."
Kosier has been married for 17 years, and his wife Sandra is also a Wooster Brush employee. She has 27 years of service with the company. Though he says he doesn't do many activities for leisure, Kosier enjoys spending time with family.
"At this age, you don't need any hobbies! Watch the kids, that's about all you need. My daughter's still in junior high. She's a cheerleader now, and she does ice skating, so I follow her around," he said.
Retirement isn't on the books yet because work is fulfilling. "I think that's what keeps me here," Kosier said, in regards to five decades of service at Wooster Brush. "As long as I can keep working, I'll keep coming."
Kosier is the 16th person in the company's 165-year history to have reached this milestone. Wooster Brush is known around the area to have an exceptionally high retention rate. The current average length of service for all 550 employees is 16 years.