Posted June 15, 2018
Simonds Saw holds largest ever distributor training program
Simonds Saw held its most attended 'Little Red Schoolhouse' training session in over five years.
---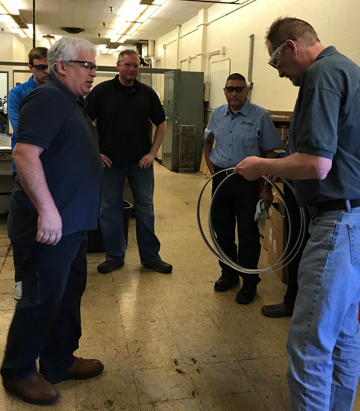 The April session was held in response to increased demand. The session has been a staple in the company's distributor training itinerary since 1935, held multiple times a year in various formats.
Eighteen distributors, manufacturer representatives and Simonds employees attended the full-day school house training at Simonds' Fitchburg, Massachusetts, facility, completing learning modules and then finishing hands-on training in the cutting lab.
"Our Little Red Schoolhouse trainings are particularly effective because attendees have varying degrees of industry experience and experience with our products," said Dale Petts, global product manager. "It encourages a collaborative learning experience, and ensures that everyone is learning something new. It's important that every representative learn something new about the trusted metal cutting products we provide end users."
Over the years, Simonds has trained more distributor sales people than any other industrial products manufacturer. In addition to the 'Little Red Schoolhouse' trainings for sales people, Simonds also offers in-the-field training to saw blade end users. In 2010, Simonds Saw also began offering online end-user training through its Never Yield to Steel microsite.
Another large schoolhouse session, this time for Spanish-speaking customers, will be held in July.