Posted July 27, 2017
Hydraulic Supply Company celebrates 70 years
Hydraulic Supply Company, a distributor of hydraulic, pneumatic and industrial products, is celebrating 70 years in business.
---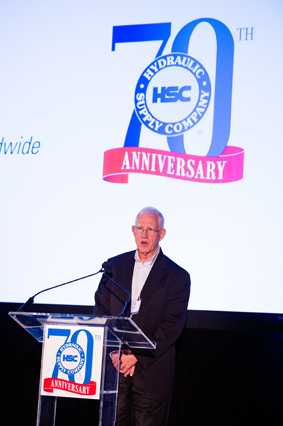 Jim Inglis, Hydraulic Supply Co. CEO, spoke at a recent gathering celebrating 70 years in business.
The Sunrise, Florida-based company organized an event to commemorate the anniversary, which included the participation of company employees, vendors, and partners.
Hydraulic Supply Company was founded in 1947 by Harold Inglis as Aero Hardware & Supply in Miami Springs, Florida, to provide hardware and tools to the aviation market. With only two team members and the desire to do things right, the company became Aeroquip's first distributor and gained recognition as a leader in the fluid power industry.
"Driven by our core purpose and our principals to make every experience with our organization a positive one, as well as our dedication to our customers and our exceptional team members, Hydraulic Supply Company quickly developed a solid reputation in the market that enabled us to transcend the barriers of time and made this a successful company for the past 70 years," according to a company statement announcing the milestone.
Jim Inglis, CEO and owner, spoke at the event and recognized team members who have been with the company for more than 10 years.
John Serra, president of HSC, spoke about the company's milestones, team members and their dedication to customers, and the support from partners over the last seven decades.
Craig Arnold, chairman and CEO of Eaton Corporation, and Lori Kieklak, president of Eaton Hydraulics – Americas, shared congratulatory remarks and recognized HSC for its long partnership with Eaton.