Posted October 12, 2017
Nations receives Warren Pike Award
The Power Transmission Distributors Association named Andy Nations, CEO of B&D Industrial, Macon, Georgia, the 27th recipient of its Warren Pike Award for lifetime achievement in the power transmission/motion control industry.
---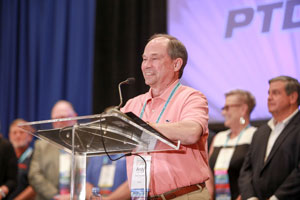 Nations received the award, named for PTDA's co-founder and first president, at the PTDA Annual Business Meeting during the NIBA/PTDA Joint Industry Summit in Hollywood, Florida, Sept. 29. The award was established in 1984 to honor individuals who have demonstrated outstanding, continuous, long-term support of PTDA and the PT/MC industry, and is only presented when an individual's achievements merit this prestigious recognition.
Nations has been an active and committed PTDA and PTDA Foundation volunteer for over 30 years. He was a member of the PTDA Board of Directors from 1997-2007, serving in officer positions including a term as president in 2006.
Warren Pike Award recipients are selected by the PTDA Board and are not informed of the honor in advance.
Nations thanked the membership for the award, and specifically mentioned his father who encouraged Nations to get involved in PTDA.
"When I was young, my dad said this business is all about relationships, and you will end up with friends. And that's certainly true. PTDA is a big part of that," he said.