Posted December 20, 2016
Superior Abrasives holds ribbon cutting
Superior Abrasives celebrated its official opening in November with a ribbon cutting ceremony at the company's new location in Vandalia, Ohio.
---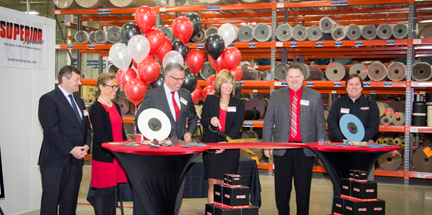 In June, the company moved from its former, approximately 30,000 square foot building located in Dayton, Ohio, into a new, 100,000-square-foot building located just seven miles north of the old location.
Superior Abrasives makes coated and non-woven abrasive products for metal working industries such as aerospace, automotive, medical, tool & die and stainless steel processing equipment. Products include quick-change discs, cartridge rolls, PSA discs, surface conditioning belts and other specialty abrasive products.
"Dedicated to lean manufacturing principles, Superior Abrasives' relentless pursuit of continual process improvements has enabled the manufacturer to reduce production costs and eliminate waste while maintaining high quality standards at each stage of the production cycle," according to a company press release.