Posted June 21, 2017
Excel Glue is now Grizzly Glue
Excel Glue has rebranded the company as Grizzly Glue.
---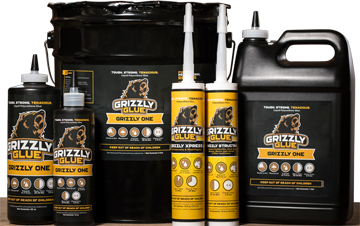 The liquid polyurethane glue was first introduced to North America in 1992 and stood apart from other products by dramatically decreasing bonding time while providing unparalleled bonding strength.
Under the leadership of current owners Scott Rhoades and Kyle Murphy, the product line of polyurethane adhesives has been expanded and the formula has been modified to work with a wide variety of applications. The name Grizzly Glue was selected to better reflect the product's strength, grip, and tenacity – even under harsh conditions.
"We're proud of how we have served our customers under the name Excel Glue and will continue our tradition of innovative products and outstanding customer service under our new brand, Grizzly Glue," said Scott Rhoades, co-owner of Grizzly Glue.
Ideal for all professional-grade gluing needs, Grizzly Glues create solid bonds on wood, glass, tile, stone, and metal. The Grizzly Glue product line includes, Grizzly One, Grizzly Structan, and Grizzly Xpress.
"I love to answer product questions because helping customers select the right glue for their project is important – and talking shop about client projects is fun! Scott and I both believe in the importance of running a business rooted in family values. We are building something that, not only our customers can be proud of, but our children can be proud of too," said Kyle Murphy, co-owner of Grizzly Glue.