Posted March 12, 2018
Hitachi Power Tools to be renamed Metabo HPT
Hitachi Power Tools announced a name change from Hitachi Power Tools to Metabo HPT for its full line of power tools, fasteners, accessories and outdoor power equipment products for North America.
---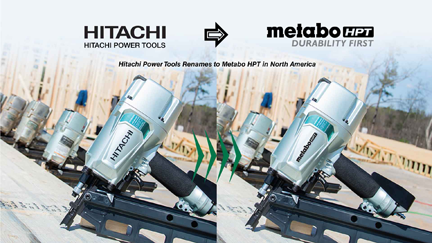 The transition will start from September 2018 with the launch of MultiVolt, while the majority of products will change over after December 2018.
"The legacy of our brand has been built over many decades and will exceed all expectations as our name changes to Metabo HPT," said Joe Leffler, senior vice president of sales, marketing, general management and board Member, Hitachi Power Tools. "Nothing will change about our brand except the name."
Products will retain current brand identity with the same color, model numbers, warranties and battery interchangeability.
All products will continue to be covered and supported by the same warranties and service. Hitachi Power Tools products will be interchangeable with Metabo HPT products.
Metabo HPT packaging and signage at point of sale during the transition will feature both names and logos to clearly communicate the changeover from Hitachi Power Tools. At a glance, customers will easily understand that this is the same brand just under the new name, Metabo HPT.
In making the announcement, the company said that it's important to note that the original Metabo brand headquartered in West Chester, Pennsylvania, will remain. Both distinct brands, Metabo HPT and Metabo, are part of the parent company Hitachi Koki Co. Ltd., which is scheduled to become Koki Holdings Co. Ltd. in June 2018.