Posted March 24, 2016
Melin Tool and Haimer ink licensing agreement
Melin Tool Company and Haimer GmbH recently signed a U.S. licensing agreement enabling Melin to offer end mills to the U.S. market with the HAIMER Safe-LockSystem.
---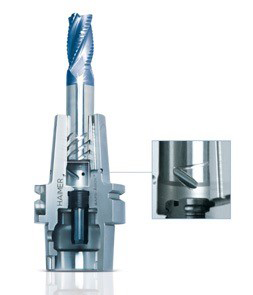 The unique Safe-Lock design in cutting tools and tool holders combines high precision shrink fit clamping with a positive form locking mechanism. This prevents round cutting tools from being rotated or completely pulled out from tool holders during heavy machining. The combination of a symmetrical locking tool design with high concentricity and excellent balance of the Safe-Lock system, results in a vibration-free machining process. This leads to more efficient metal removal rates, superior to that of conventional milling chucks or Weldon side-lock tool holders.
Melin Tool has been an innovator in the market for solid carbide end mills, particularly in respect to variable geometry mills and demanding aerospace applications. Its designs have led to end mills that significantly reduce vibrations during machining, thus enabling greater speeds and improved metal removal rates (MRR) as compared to other more conventional designs. However, the increased MRR can lead to a potential pull-out of the cutting tool during aggressive machining due to higher helix angles and increased cutting forces. This fact has led the team at Melin to look for a solution that enables full realization for their tools potential cutting speeds. Their research, along with customer feedback, led Melin Tool to partner with the Haimer Safe-Lock system technology.
"We are very pleased to have entered into this agreement with Haimer GmbH," said Mike Wochna, president of Melin Tool. "The performance we provide our customers with our unique geometries is significantly enhanced with this new ability to virtually eliminate tool pull-out. Further, we can now explore other innovative geometries that, until now, were constrained by this operational tendency in the spindle."