Posted April 3, 2018
AD Industrial highlights record results
AD Industrial highlighted record results from 2017 when it hosted the 2018 AD Spring Network Meeting recently.
---
More than 270 people attended this year's event, a 4 percent increase from the previous year.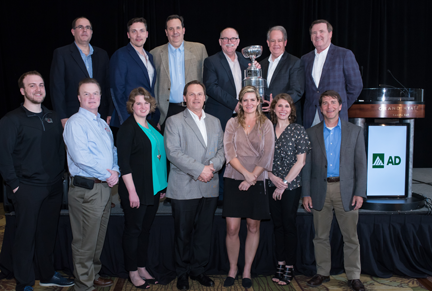 AD Industrial Network 210 members
AD shared details regarding the group's record results in 2017, which surpassed $1 billion in member purchases. Updates were also provided on AD eCommerce Solutions, now live with 2.6 million SKUS, along with AD HR Services and Procurement Services programs that collectively saved AD members more than $6 million in non-product purchases and HR Services in 2017. The 2018 Conversion Campaign is also underway with a goal to increase conversions from $50 million in 2017 to $58 million in 2018.
For the second year in a row, Network 210 was honored during the Awards Dinner with the Conversion Cup for closing more than $10 million conversion opportunities in 2017. Network 210 includes AD member companies Atlas Industrial Supply Inc., Campbell Supply Co., GME Supply Co./Columbia Safety, Hagerty Industrial Supply, Hanes Supply Inc., Industrial & Construction Enterprises Inc., Industrial Supply Co. Inc., L&M Tool and Industrial Supply Inc., Neill-Lavelle Supply Company, Stellar Industrial Supply Inc., and TA Industrial Solutions.
Additional awards winners included:
2017 Category MRO – Tier 2: P&I Supply
2017 Category Growth Metalworking – Tier 1: Navasota Industrial Supply
2017 Category Growth Metalworking – Tier 2: Mallory Safety & Supply
2017 Category Growth Safety & Janitorial – Tier 1: Mill Supplies Inc.
2017 Category Growth Safety & Janitorial – Tier 2: Industrial Supply Co. Inc.
2017 Category Growth Tool & Material Handling – Tier 1: IBT Industrial Solutions
2017 Category Growth Tool & Material Handling – Tier 2: Tenaquip Limited
2017 Conversion MVP – P&I Supply