Posted April 18, 2018
Rex-Cut Abrasives celebrates 90 years in business
Fall River, Massachusetts-based Rex-Cut Abrasives is celebrating its 90th year in business.
---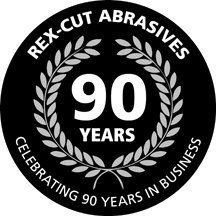 MIT graduate and process engineer Edward Hurst invented the technique of embedding abrasive grain in non-woven cotton-fiber in 1928 while working for United Cotton Products in Boston. United Cotton was a division of Rexall Drug and Chemical Company operating out of Fall River. The original product was named "Fluff-Tex" and a patent was filed for the manufacturing process in 1935.
In 1960, Hurst retired from United Cotton Products and his son, Robert H. Hurst, took over management. The business changed hands several times before being called Rex-Cut Products in 1969.
Until the early 1970s, Rex-Cut manufactured and sold only bulk rolls of fabric for conversion to large abrasive companies. At this time, Robert H. Hurst began purchasing equipment and converting the Rex-Cut abrasive material in-house. Rex-Cut's first finish products were Type 27 grinding wheels. Abrasive discs designed to sharpen gardening tools and lawn mower blades were second. Type 1 wheels followed and mounted points began being manufactured several years later. In 1978, Rex-Cut built a 60,000 square foot facility located in the Fall River Industrial Park where it still operates today.
In 2008, Rex-Cut was sold to the employees as a 100 percent ESOP company, making it one of roughly 7,000 employee owned businesses in the United States today. In most recent news, the company began doing business as Rex-Cut Abrasives in 2011.
Rex-Cut is the oldest and primary manufacturer of cotton-fiber abrasive grinding and finishing products in the world. Over the years the small line has expanded to serve metalworking industries globally. Rex-Cut's first international account was set up in the late 1970s, and now the company ships to 54 countries.
Rex-Cut began establishing its own network of industrial distributors to sell the Rex-Cut brand of finished abrasive products in the 1970s.
"At our 90 year mark we are reflecting on our history, dedicated team, and recognizing our loyal business partners," said Bob Costa, president of Rex-Cut Abrasives. "We have a total of 228 distributors that have been with us for over 20 years and we wouldn't have reached this milestone without their help."
To celebrate nine decades in manufacturing, Rex-Cut will select nine of its longstanding distributors to receive a gift. A celebration with all employee owners will take place in the fall.
"We want to thank our dedicated distributors and employees for their years of partnership and service," said Costa. "We are looking forward to many more years of providing safe and efficient products for metalworking industries."