Apex Supply Chain Technologies Kanban/VMI system
Apex Supply Chain Technologies launched a new smart Kanban/VMI system to manage stock and replace the need for manual counting, flags, labels and cards.
---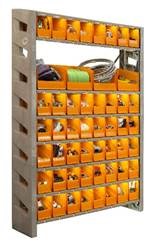 The smart bin technology has been designed to provide a solution to inventory replenishment issues, sending automated alerts and re-order notifications to suppliers to eliminate the need for counting trips, safety stock and emergency orders. It aims to keep lines up and running, boost supply chain productivity and grow bottom-line revenues.
Powered by Trajectory Cloud, a secure business intelligence platform that integrates and connects your existing systems, the ActylusTM smart bin system improves productivity, visibility, reliability and accessibility throughout a business operation. The Trajectory Cloud is able to monitor the Actylus system to see when items need restocking, simultaneously tracking usage patterns and trends through a reporting system. Inventory levels can even be checked via phone or email anytime and anywhere.
The Actylus automated replenishment system is available in a range of bin and shelf configurations, and is capable of storing and monitoring any item traditionally stored in bins, from electrical components to healthcare supplies. It is fast and easy to set-up, and interior lights keep bin contents visible to ensure swift selection.
Kent Savage, CEO at Apex Supply Chain Technologies, commented: "We have launched the new Actylus smart replenishment solution to resolve the common issue of inefficiency across several industries and applications. Automated low-supply alerts will reduce the cost and time to stock your bins by 30 percent or more, significantly improving productivity and efficiency in a business."