Ideal Industries Twist LT Wire Connector
Electricians challenged by having to make wiring connections across a wide variety of wire sizes will appreciate the re-introduced Twister LT Wire Connector from IDEAL INDUSTRIES INC., now available in bright, easy-to-identify orange.
---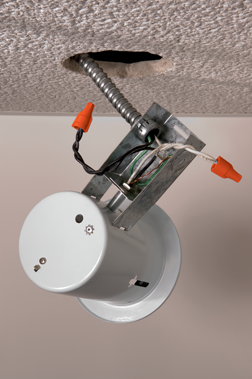 Exceptionally versatile, the Twister LT accommodates solid or stranded wire from 2 #22 AWG to 3 #12 AWG. This advantage translates into fewer wire connectors that an electrician must carry in his tool tote or truck, since a single Twister LT can do the work of up to four different size standard wire connectors plus a yellow wing-style connector. The wide range means the Twister® LT can tackle any project from small gauge thermostat control wires up to larger gauge lighting or receptacle wires. No matter the project, the Twister® LT gets the job done right in the most cost-effective, timesaving way.
"The Twister LT can handle virtually any standard electrical combination found in residential construction, as well as many light commercial applications," said Cassie Donnelly, Product Manager for IDEAL Wire Termination. "They deliver the same high performance electricians have come to expect from IDEAL, yet are very versatile, making them perfect for electricians who are doing several different types of wiring jobs throughout the day. Plus, their proven Twister® swept-wing design gives the electrician a comfortable, secure grip with less fatigue, even when they are making hundreds of connections a day."
Electricians using the IDEAL Twister LT Wire Connector will know they are making a safe, long-lasting connection whether they are connecting by hand or using an IDEAL Twist-a-Nut Screwdriver or SpinTwist Connector Tool. The live-action, square-wire spring expands and threads quickly onto conductors without the need for pre-twisting. The contoured swept-wings provide exceptional torque when applying by hand and the hexagonal shaped head allows for installation with a standard 1/4-inch nut driver. The deep skirt helps protect against flash-over.