Posted November 16, 2016
Midland Metal Mfg. 2017 catalog
Midland Metal Mfg. announced it new 576-page 2017 catalog, which features 14,000 products with over 1,300 new items.
---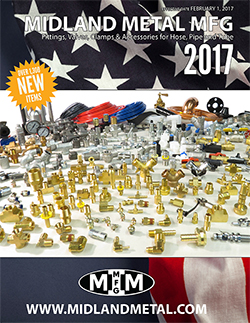 New products include truck and trailer accessories, hose clamps, pneumatic accessories, many new valves, and an all new LP Gas section of products.
Midland Metal Mfg. partners with wholesalers and distributors nationwide that cater to the industrial, hose and fitting, fluid power, fastener, plumbing, oil and gas, heavy duty truck and trailer, marine, LP Gas, and OEM markets. Midland's product lines include brass fittings, valves, cast fittings and nipples, clamps and pipe, tube and hose accessories made in brass, bronze, stainless steel, steel, malleable iron, forged steel, aluminum and plastics. Midland Metal Mfg. ships from its headquarters in Kansas City, MO and its west coast distribution center in Fresno, California. Midland also has rep stocking locations in Houston and Atlanta.
Midland Metal Mfg.'s motto of "too convenient not to buy from…" is backed by an easy to use website, online ordering system, online account management tools, same-day shipping, superior customer service, custom catalogs, private label shipping and other marketing programs to support its customer's sales efforts.