Posted January 6, 2023
Wright recognizes employees for service, achievement
Wright announces the winners of its service and achievement awards. The service and achievement awards are designed to reward and recognize those employees for their years of service.
---
Every year, Wright commemorates its employees for their years of service on November 30. This date holds a special place in Wright's heart as it was the start date of Pat Taylor, Wright's former executive vice president. Taylor, who had a 56-year career, retired in 2019 and passed away on November 14, 2021.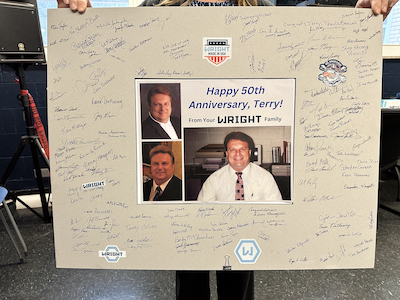 This year's service and achievement awards celebrated four years of awards due toCOVID and highlighted 53 employees including CEO Terry Taylor's 50 years of service. Wright paid tribute to 22 employees celebrating five years of service, 17 employees celebrating 10 years of service, eight employees celebrating 15 years of service, three employees celebrating 20 years of service, two employees celebrating 35 years of service and one employee celebrating 50 years of service (Terry Taylor).
"At Wright, our company culture focuses on our employees to take pride in their careers. Here, every employee's contribution matters and is recognized," said Tom Futey, president and co-owner, Wright. "Without our employees, Wright would not have the success we've had for the past 95 years."
Wright partnered with SNAPPY, which allows employees to go online and choose a gift as appreciation of their service and loyalty to Wright.
The employees who were honored are: