Posted January 18, 2023
Turtle & Hughes names vice president
Michael Vitiello, a 13-year veteran of Eaton Corp., has joined Turtle & Hughes as vice president and national sales manager of its electrical distribution division.
---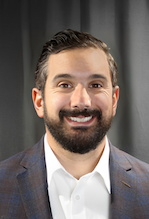 In his new role, he is entirely responsible for the company's distribution sales leaders across the country. Vitiello will work to advance Turtle's technical solutions with national partners and its commitment to ESG leadership.
"We are very fortunate to attract top talent like Mike Vitiello as we look to our second century of excellent service to our customers," said Kathleen Shanahan, CEO. "In addition to his technical acumen, Mike is passionate about building a strong customer-focused culture to achieve financial and operational excellence, and deliver on our mission of sustainability, which has long been at the core of our business strategy."
Luis Valls, president, electrical distribution division, added, "Mike has a strong record of success in technical leadership positions at Eaton with expertise in engineering, sales, operations, supply chain, and manufacturing processes, consistently exceeding goals. His diverse experience makes him an invaluable resource to our internal sales staff and distribution customers who rely on us to provide sustainable solutions in power distribution, lighting/energy, and industrial infrastructure consulting."
Vitiello spent his entire career at Eaton, a multi-national leader in power management, most recently serving as business operations manager responsible for the financials, production, marketing, and sales of a New Jersey facility manufacturing electrical distribution equipment. In this role, he developed and executed new supply chain, engineering and manufacturing processes to overcome material headwinds. As a result, his location was named Eaton's Top Performing Satellite Plant in 2021.
Before that, Vitiello was area sales manager in New Jersey where he set a positive culture around strategic selling that brought value to Eaton's customers leading to a top share position in the market. His earlier technical positions at Eaton included Hartford (CT) CMSC engineering manager, NYC construction lead sales engineer, NYC residential/light commercial sales engineer, and LDP technical sales.
Vitiello earned a Bachelor of Mechanical Engineering from Stevens Institute of Technology in New Jersey and an MBA in Operations and Human Resources from Baruch College in New York City. He is a licensed professional engineer in New York State.