Posted January 22, 2020
Lafert North America adds to inside sales team
Lafert North America has appointed Sadaf Irfan as an inside sales representative.
---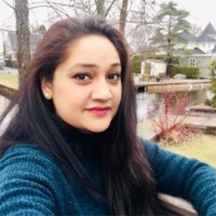 Irfan brings over 6 years of experience in technical sales and customer relationship management combined with a specialized focus in manufacturing, engineering consulting, and project management. She will have the ability to enhance Lafert's customer relationships through her technical support and project collaborations.
"With her background in electrical engineering and sound business acumen in the oil and gas industry, she is the perfect fit to succeed as one of our top technical product experts," the company said in a press release announcing her appointment.
Headquartered in Mississagua, Ontario, Lafert NA is the sole North American representative for the Italian manufactured Lafert IEC motor line, Sacemi Coolant Pumps and SITI metric line of gearboxes.