Posted January 29, 2021
Applied's Schrimsher sees momentum building
Despite a 9.9 percent sales decline in its fiscal 2021 second quarter, Applied Industrial Technologies CEO Neil Schrimsher sees positive momentum.
---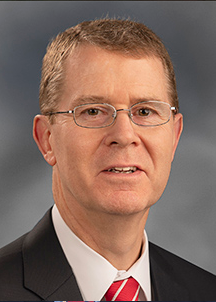 The company reported sales of $751.3 million in the quarter, well below the $833.4 million achieved in the same period last year. But the results showed improvement from the 12.7 percent decline and sales of $747.8 million in the first quarter.
"We saw greater break-fix and maintenance-related demand across our service center network, on rising production activity, greater spending authorizations and enhanced sales momentum across strategic accounts. Customers are remaining productive in the current environment as established safety protocols are proving effective and providing support," said Schrimsher during the company's conference call with investors.
He added that demand across Fluid Power and Flow Control segment was also encouraging, with order activity and backlog momentum building. "This partially reflects firm demand from our leading service and engineered solutions capabilities as secular growth tailwinds continue across various industries," he said.
Areas such as food and beverage, aggregates, technology, lumber and wood, chemicals, and pulp and paper continue to show positive momentum as well. While year-over-year weakness remains greatest across heavy industries such as machinery, metals and oil and gas, demand within these verticals continues to gradually improve and related indicators suggest further recovery could emerge in the coming quarters, he said.
Schrimsher added that Applied is playing a key part in the recent vaccine rollout and related COVID-19 response. "Our flow control offering and support team are providing critical products and solutions for vaccine production. This includes hygienic diaphragm valves, water for injection pumps, and cleaning place flows systems used to clean and regulate material flow and temperature as the vaccine is manufactured. We're proud and grateful to be participating in this historic moment which highlights our expanding position and capabilities across essential industries," he said.
Recent acquisitions helped mitigate the sales decline, including the acquisition of Gibson Engineering in late December. "Our growing automation footprint and offering focused on robotics, machine vision, motion control and digital technologies is being recognized across our industries and presents a significant growth opportunity longer-term, as we address customers' operational technology, needs in an improving industrial sector," Schrimsher said.
Chief financial officer David Wells added that the company will continue to look for acquisition targets. "Our M&A focus near-term remains on smaller bolt-on targets that align with our growth priorities, including additional automation and fluid power opportunities," he said.
The company expects to see continued improvement throughout 2021.
"Based on month-to-date trends in January and assuming normal sequential patterns, we would expect fiscal third quarter 2021 organic sales to decline by 3 percent to 4 percent on a year-over-year basis. This includes an assumption of low-single digit organic declines in our Service Center segment and mid-single digit organic declines in our Fluid Power and Flow Control segment," Wells said.