Posted January 30, 2023
Crosby Group and KITO join to form new lift, material handling company
The Crosby Group and KITO Corp. have completed a deal combining the two businesses to form Kito Crosby. The January 29 announcement follows the settlement of The Crosby Group's cash tender offer for all outstanding shares of KITO Corp. for JPY 2,725 per share and the completion of the related squeeze-out process and de-listing of KITO Corp. from the Tokyo Stock Exchange.
---
The Crosby Group is a provider of lifting and rigging solutions, and KITO Corp. is a manufacturer of material handling equipment with 90 years of experience in the development and production of hoists and cranes.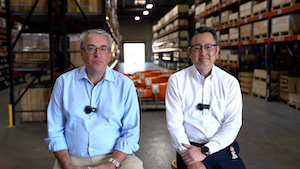 Robert Desel (left), CEO of Kito Crosby, and Yoshio Kito, chairman of the board of Kito Crosby.
The combined entity is Kito Crosby and brings together the companies' complementary geographic footprints and product portfolios to better serve customers, team members, and their global communities. The combined company will invest in its people, products, and facilities to advance innovative solutions for customers, who will benefit from expanded service, support, and training.
Kito Crosby team members will be participants in the employee ownership program.
"Our highly complementary product portfolios and mutual commitments to safety, reliability, and innovation will create exceptional value for our customers and other stakeholders," said Robert Desel, CEO of Kito Crosby. "I am honored to be leading this organization and its 4,000 team members around the world to bring together two amazing businesses with rich traditions and histories.
"I am very excited to announce that under the combined company we will be extending our expanded employee ownership program to Kito Crosby team members. We firmly believe that everyone contributes to the success of the company and should benefit from their efforts," he added.
Yoshio Kito, chairman of the board of Kito Crosby said, "This combination represents significant value creation for our customers, employees, shareholders, and communities. We are excited to continue growing as a combined business and to develop incremental opportunities for our existing and new customers across the world with expanded product offerings and solutions, while maintaining the same support and commitment they have come to expect."