Posted February 1, 2023
Dec. construction spending down .5%
Total construction spending during December 2022 was estimated at a seasonally adjusted annual rate of $1,809.8 billion, 0.4 percent (± 0.8 percent)* below the revised November estimate of $1,817.3 billion, according to Feb. 1 data from the U.S. Census Bureau. The value of construction for the entire year was $1,792.9 billion, 10.2 percent (±0.8 percent) above the $1,626.4 billion spent in 2021.
---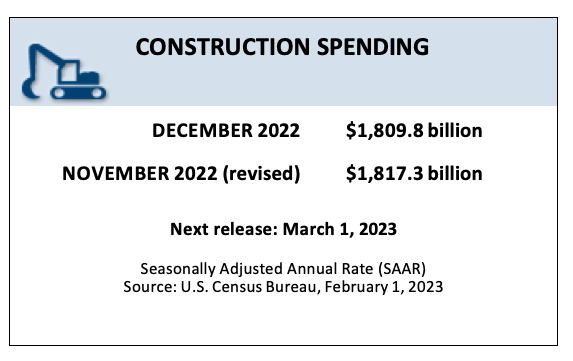 On a seasonally adjusted annualized basis, nonresidential spending totaled $943.5 billion for the month.
Spending fell on a monthly basis in 10 of the 16 nonresidential subcategories, according to an Associated Builders and Contractors analysis of the data. Private nonresidential spending was down 0.5%, while public nonresidential construction spending was down 0.4% in December.
"Nonresidential construction spending fell in December, ending a streak of six straight monthly increases," said ABC Chief Economist Anirban Basu. "Despite the decline, nonresidential spending is up 13.8% year over year, an increase outpacing both overall inflation (6.4%) and materials prices inflation (+7.6%). More than half of the increase in nonresidential construction over the past year is due to heightened activity in two segments: manufacturing, as megaprojects begin across the nation, and commercial, a category that includes warehouse- and distribution-related construction.