Posted February 13, 2019
United Distribution Group CEO Cole to retire
SunSource announced the retirement of United Distribution Group Inc. president and CEO, Darrell H. Cole, effective Feb. 15.
---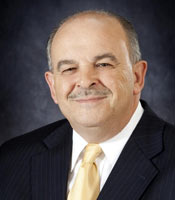 Cole's 43-year career with United began in 1976 when the company had a single location in rural southwestern Virginia. UDG today has more than 60 locations and more than 700 team members.
"It has been an honor and a privilege to be associated with the employees of The United Distribution Group, United Central Industrial Supply Co., GHX Industrial, and McCarty Equipment Co. as the organization grew and prospered," said Cole. "As I begin the next chapter of life, I look forward to seeing the company continue to grow and prosper through its affiliation with the SunSource group of companies. At the same time, I look forward to spending more time with family and traveling."
"It has been an honor to work with Darrell through the transition period of joining forces with United Distribution Group," said David Sacher, CEO of SunSource, which announced its acquistion of UDG in July 2018. "He has built a great leadership team and has provided the support to ensure that the transition will be successful for all associates, supplier-partners and customers. We are all thankful."