Posted February 18, 2021
Industrial Magnetics acquires Walker Magnetics
Industrial Magnetics Inc. has acquired substantially all of the assets of Walker Magnetics Group Inc., North America's oldest industrial magnet manufacturer.
---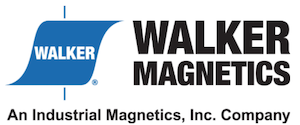 Founded in 1896 in Worcester, Massachusetts, with the invention of the electromagnetic chuck by Oakley S. Walker, Walker Magnetics has grown into a market-leading provider of custom and standard magnetic products for workholding, lifting, material handling, scrap magnets and separation applications. Over its 125-year history, a diverse range of industries have come to recognize Walker Magnetics products' reliability across a broad spectrum of unique and general manufacturing applications.
"The acquisition of Walker Magnetics marks Industrial Magnetics' next step in expanding our permanent, electromagnetic and electro-permanent magnetic technology and systems for industrial applications," said Dennis O'Leary, Industrial Magnetics' chief business development officer. "It also broadens our industry-best roster of lift magnets and establishes Industrial Magnetics as a leader in the workholding segment with a complete lineup of permanent, electromagnetic, and electro-permanent magnetic chucks."