Posted February 18, 2021
Mid-single digit growth for Weekly Pandemic Revenue Index
Indian River Consulting Group's weekly Pandemic Revenue Index for the work week of Feb. 8-12 indicated a 5 percent increase compared with the same week a year ago.
---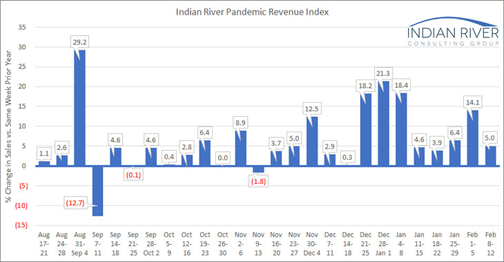 Out of the 13 reporting firms, seven respondents reported increases ranging from mid-single digits to above 33 percent. Six companies reported declines ranging from 1 percent to 12 percent.
IRCG's distributor Pandemic Revenue Index gives distributors a weekly quantified view into how other distributors in the industry are faring as the global COVID-19 pandemic progresses.
"After a double-digit growth week to start February, the index has returned to mid-single digits, which was the pattern through the better part of January. As we near the one-year anniversary of the index, we'll be publishing some of the trends we've seen for the past 12 months as we wind the index down," said Mike Emerson, IRCG partner.