Posted March 7, 2019
SC Fastening Systems celebrates 20 years
SC Fastening Systems, an Ohio-based distributor of hardware and industrial supplies, is celebrating its 20th year in business.
---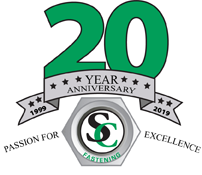 The company attributes its growth to a prevailing commitment to provide both a wide range of quality products and outstanding service in the industry.
SC Fastening Systems will commemorate the anniversary by showcasing new and top products in monthly sales promotions and by exhibiting at the FABTECH Show, Nov. 11-14, in Chicago.
Since 1999, SC Fastening Systems has expanded its product line and service offerings, including customized and special products, and value added kitting and assembly services. Expansion plans underway in Macedonia, Ohio, will add more space to its facility. The company's website has also improved its product selection and ordering processes.
"The commitment to supply not only quality products but excellent service has made SC Fastening Systems the 'Outsource Solution' and a preferred distributor for many OEMs," said co-owners Scott Filips and Chuck Domonkos. "The success of our company is based on outstanding customer service, which includes superior and diverse product offerings and fast delivery."
SC Fastening Systems distributes fasteners, abrasives, concrete anchors, cutting tools, safety supplies, janitorial, electrical, welding and related products.