Posted March 21, 2023
AD owner/members elect 2023 board of directors
The owner/members of AD have elected three directors to its board of directors: François Deschênes, president & CEO of Deschênes Group Inc. is newly elected, and Chrissy Nardini, president, American Metals Supply, and Donald D. Slominski, Jr., executive chairman of the board at McNaughton-McKay Electric Company, were reelected.
---
Board members are selected through an annual process in which the board's nominating & governance committee holds an open nomination and voting period. Currently, more than 140 of AD's 850-plus member companies provide leadership on corporate and divisional boards and committees.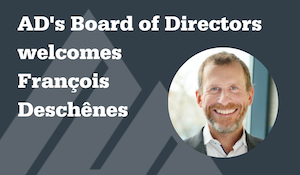 Deschênes leads Deschênes Group Inc., a Quebec-based distributor-wholesaler of plumbing and heating products. He joined the family business in 2000, and has served as Vice-President, Operations for the province of Quebec, vice-president and general manager for Deschênes & Fils Ltée, a subsidiary of Deschênes Group Inc., vice-president, marketing & business development, as well as vice-president, procurement. He had also been chairman of AD Plumbing & Heating – Canada and of the buying group Canaplus Limited Partnership. He is a member of Young Presidents' Organization (YPO), the Cercle des présidents du Québec and the board of directors of the Canadian Institute of Plumbing and Heating (CIPH).
"I am honored to have been elected to represent AD members as we work together to grow and succeed," said Deschênes. "The board of directors contributes strategic direction and speaks for the dedicated owner/members on the future of the group, and I look forward to collaborating with the board's terrific leaders to guide us forward."
Nardini leads American Metals Supply, Co. Inc., a third-generation family business headquartered in St. Louis with nine locations throughout the Midwest and Southwest. American Metals Supply is a wholesale distributor of galvanized steel and HVAC supplies. Nardini has been with the company since 1997 and has served as president since 2006. Nardini is a past president of HARDI (Heating, Air Conditioning & Refrigeration Distributors International), where she was the first female president of the group. She joined the AD LLC board in 2019 and currently serves on the audit committee.
Slominski, Jr. leads McNaughton-McKay Electric Company, which operates over 40 electrical distribution locations in the U.S. and Germany. Prior to his appointment as executive chairman in 2023, he was ceo since 2005 and previously served as chief financial officer. He began his employment with the company in 1996. Slominski served on the board of directors of EDGE Investment Partners, LLC from its formation in 2012 through 2017. EDGE was created by several electrical distribution companies to invest in distribution opportunities outside of North America, primarily in emerging markets. He joined the AD LLC board in 2013. he currently serves as the chairman of the audit committee and is a member of the investment committee.
"Our boards and committees have incredible leaders who make the AD community stronger by setting the group's strategies and policies and overseeing our operations," he shared," said AD Chairman and CEO Bill Weisberg. "The annual election process ensures that each member has the opportunity to choose who serves on our corporate board and our board clearly understands its responsibility to represent the interests of all our divisions and countries. I look forward to working closely with François as he joins the Board of Directors."
The members of the 2023 AD LLC Board of Directors are:
Francois Deschênes, President & CEO, Deschênes Group Inc.
Steve Drummond, President, Source Atlantic
Clay Geary, Owner/Manager, Interior Exterior Building Supply
Karla Neupert Hockley, President, Consolidated Supply Co.
Tim Horsman, President & CEO, E.B. Horsman & Son & AD LLC Organizational Development Committee Chair
Dr. Don McNeeley, Chairman & CEO, Chicago Tube & Iron
Chrissy Nardini, President, American Metals Supply Co.
Donald Slominski, Jr., Executive Chairman, McNaughton-McKay Electric Company & AD LLC Audit Committee Chair
Bill Weisberg, Chairman & CEO, AD
David White, CEO, Border States Electric & AD LLC Board Lead Directors
John Wiborg, President & CEO, Stellar Industrial Supply, Inc. & Chair of the AD LLC Nominating & Governance and Investment Committees