Posted March 21, 2023
Turtle hosts supplier expo, launches cybersecurity business
Turtle, a large privately-held electrical and industrial distributor, convened more than 50 manufacturers of energy-efficient innovations at Turtle Rethink 2023: A Supplier Expo on March 21.
---
The event showcased Turtle's new brand, which was unveiled the previous for the company's employees, and the company's progress toward a net carbon zero future through the dynamic collaboration among manufacturers and customers––something they say has characterized its 100-year history.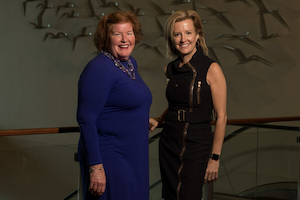 Turtle CEO Kathleen Shanahan (left) and Executive Chairman of the Board Jayne Millard
As it embraces innovation in the next century, Turtle is advancing "radical collaboration" – a key brand value and intent to engage earlier in the design process, work together with partners and stakeholders in mapping industry best practices, and co-creating next-generation solutions that unlock and create new value.
One example is Turtle Technology Services, a new line of business in cybersecurity consulting addressing key challenges its customers face.
"2023 is our centennial year, and we are using this milestone to convey who we are today: a strategic energy solutions leader helping our customers with their most challenging design, engineering, and electrification needs," said said Jayne Millard, Turtle's executive chairman of the board and great-granddaughter of one of its founders, M.B. Turtle. "We are proud to host our partners in helping our customers build smarter and more sustainable ways for communities to live, work, and move in the future,"
Turtle's brand mission "Rethinking Energy. Advancing Tomorrow," encompasses the company's promise to:
Remain stewards of the industry as a family-owned and operated company
Honor relationships, not transactions, as its teams of supply chain experts and technical advisors deliver mission-critical solutions with an eye to what's next
Drive electrification for smart, safe, connected communities by solving customers' digital, electrical and industrial needs
Turtle Technology Services
In keeping with this brand mission, Turtle Technology Services will deliver cybersecurity solutions, services and consulting to its customers. Headed by Turtle's Chief Technology Officer and Chief Information and Security Officer David Magee, the business will prepare customers to meet the standards of cybersecurity care that are increasingly expected by their clients, their boards and their regulators.
"Turtle has been a key consultative partner to many of our customers in cybersecurity. Now as we broaden these offerings, we are fortunate to have David's gravitas and passion in leading this exciting new business line that will be critical for all organizations and industries," said Kathleen Shanahan, Turtle CEO.
Turtle Rethink 2023: A Supplier Expo will feature energy-efficient technology and infrastructure innovations that can re-engineer workspaces, harvest sunlight, scale EV charging options, and reduce light pollution for airports, universities and commercial buildings.