Posted March 23, 2020
Crosby Group names GM, load monitoring
The Crosby Group has appointed Thomas Dietvorst general manager, load monitoring, as David Ayling, the former owner of the Straightpoint company steps into a consultancy role.
---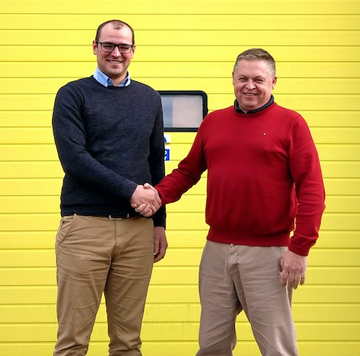 Thomas Dietvorst (left), general manager, load monitoring and former Straightpoint owner David Ayling outside the company's Hampshire, UK facility.
Dietvorst will take the reins at SP's manufacturing facility and headquarters, co-located in Hampshire, UK that became Crosby's centre of excellence for load monitoring and measurement following the January 2019 acquisition. He will report to Jason Colwell, managing director, EMEA at Crosby. Ayling, meanwhile, will transition from his temporary role as global business development director for load monitoring solutions to long-term consultant.
Dietvorst, 30, was previously strategic marketing manager at Crosby, based in Belgium, having joined the company two years ago as product manager. He will relocate to the Havant area near SP's facility, with travel and commitments at Crosby Europe in Heist-op-den-Berg in his home country making up the remainder of his time. He has a Masters in Science in Product Development (MSc) from the University of Antwerp, and a Masters in General Management (MBA) from the Vlerick Business School.