Posted March 28, 2023
Kimball Midwest honors centennial with charitable gift
National industrial supplier Kimball Midwest continued its centennial celebration last week with events at its distribution center in Arlington. The company is holding a series of events to honor its 100th anniversary throughout 2023.
---
Notable among the festivities is a community campaign to celebrate the milestone by donating $1 million across the country. Each sales region, corporate department, and distribution center will receive money for associates to donate to a qualified charity of their choosing.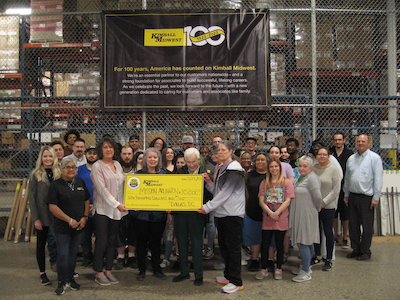 Kimball Midwest's Arlington Distribution Center associates selected Mission Arlington to receive a $10,000 donation as part of the company's community campaign marking its centennial. Here, the Arlington team presents the check to Tillie Burgin, the organization's executive director.
The company's Arlington, Texas, associates selected Mission Arlington for their local charitable contribution as part of Kimball Midwest's community campaign. Mission Arlington is a faith-based organization that utilizes hundreds of volunteers and a multitude of services to assist people with physical, intellectual, emotional, and spiritual needs.
On March 24, Mission Arlington representatives visited the local Kimball Midwest distribution center to receive the donation. On March 25, Kimball Midwest's Arlington associates and their family members gathered at a local entertainment center to celebrate the company's centennial and spend time together.
"We appreciate every member of our distribution center team in Arlington," said Meaghan McCurdy, Kimball Midwest's director of culture, diversity and inclusion. "Their hard work and dedication are critical to our customers throughout the region, allowing our customers to keep America working.
"We're also excited to partner with Mission Arlington and help them pursue their important work in 2023."
The Kimball Company was founded in Cleveland, Ohio, in 1923. In 1984, it joined with Midwest Motor Supply, which had been founded in Columbus, Ohio, in 1933, forming Kimball Midwest.
From its roots as a regional automotive supplier, the company has experienced consistent growth, with sales going from $1 million in 1983 to more than $400 million in 2022.
Its presence has spread from Ohio to every corner of the contiguous United States. In 2022, Kimball Midwest opened its fifth full-service distribution center in Newtown, Connecticut, joining existing locations in Arlington, Texas; Reno, Nevada; and Savannah, Georgia, as well as the corporate headquarters in Columbus, Ohio.
Kimball Midwest opened its first remote distribution center in the Dallas area in 1994. Sales growth prompted its Dallas-area location to be moved to a larger facility in 2001, and it was expanded in 2008. Continued growth prompted a move to the current location in Arlington in 2020.