Posted March 31, 2022
Bosch Rexroth sales up by 20 percent
Bosch Rexroth reported that its 2021 sales increased by 20 percent to 6.2 billion euros.
---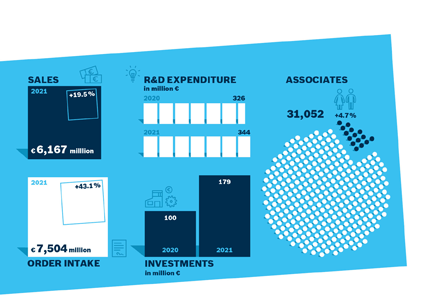 Order intake rose by 44 percent to a record 7.5 billion euros for the supplier of drive and control technologies.
"We have had a successful year 2021 – thanks to strong team performance. Despite the pandemic and economic challenges, we have succeeded in increasing sales, reliably delivering to our customers, and further increasing their satisfaction. We have reached a new high on incoming orders. We are clearly on a growth track," saud Rolf Najork, member of the board of management of Robert Bosch GmbH with responsibility for the Industrial Technology division and CEO of Bosch Rexroth AG.
Sales growth for 2021 was driven by significant double-digit growth rates in all regions of the world. At 23.5 percent, Bosch Rexroth recorded the largest year-on-year increase in Europe outside Germany. Sales amounted to 2 billion euros there. In Germany, sales rose by 18.2 percent to 1.3 billion euros. In the Americas, sales rose by 18.3 percent to 1.1 billion euros, and in Asia by 15.9 percent to 1.8 billion euros. At 6.2 billion euros, total sales are back at the level of 2019, the year before the pandemic.
"We are optimistic overall and expect further significant sales growth – but due to their global impact, the war in Ukraine and the still ongoing corona pandemic clearly are factors of uncertainty," said Najork. "The safety of our teams worldwide is always our top priority. We keep close contact with our customers digitally and personally – for example in our new customer and innovation center in Ulm. And we are doing everything we can to reliably continue deliveries to our customers."