Posted April 6, 2023
ESAB acquires Swift-Cut Automation
To grow its leadership in the global fabrication, cutting equipment, and consumables markets, ESAB has acquired Swift-Cut, a manufacturer of light industrial CNC plasma and waterjet cutting machines based near Birmingham, England.
---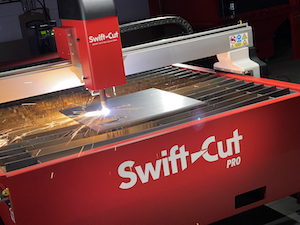 "Swift-Cut solutions enable fabricators of all sizes to leverage the power of CNC technology to shift from manual to automated cutting operations, bringing metal cutting in-house, and expanding services," says John Boisvert, vice president global cutting and aftermarket. "Swift-Cut complements ESAB's global leadership portfolio in high-precision, high-productivity, heavy-duty automated cutting systems, plasma beveling, CAD/CAM software and cloud-connected cutting analytic tools with tailored machines and solutions for light industrial fabricators."
Swift-Cut mechanized systems deliver high-precision cutting speeds combined with an affordable investment, ease-of-use, and exceptional aftercare service and support. Swift-Cut offers four table sizes ideal for smaller spaces: 1250 x 1250 mm (4 x 4 ft.), 2500 x 1250 mm (8 x 4 ft.), 3000 x 1500 mm (10 x 5 ft.) and 4000 x 2000 mm (13 x 6.5 ft.). Systems are available with ESAB and alternative power sources for multi-gas and air-plasma cutting. Swift-Cut's easy-to-use software guarantees that anyone with a basic knowledge of computers can operate the CNC plasma cutting or waterjet cutting system. Minimal training and set-up time mean the table will be operational almost immediately.
"ESAB will provide global scale to Swift-Cut's sales and services with the expanded global supply chain, engineering, and manufacturing capabilities," said Phil Camp, managing director, Swift-Cut. "We expect the synergies of these two businesses will lead to exciting new products and accelerate expansion into markets previously not yet served by Swift-Cut."
Swift-Cut has an established customer base of more than 4,000 systems installed in more than 30 countries around the world from Australia to Mexico, and recently expanded into the U.S with offices in Plymouth, Massachusetts. Swift-Cut tables are designed, engineered, and manufactured in the U.K., Germany, and the U.S.