Posted April 12, 2023
DSG celebrates grand opening
Dakota Supply Group (DSG) celebrated the official Grand Opening of its new Otsego, Minnesota, location on April 12. Special guests on hand included: Otsego Mayor Jessica Stockamp, Otsego City Council Members, MN Department of Employment and Economic Development, Catalina Valencia, MN State Rep. Walter Hudson, MN State Senator Eric Lucero, Construction Partners from RyRyan, Cushwake, Interstate Development, Colliers along with members of the DSG team.
---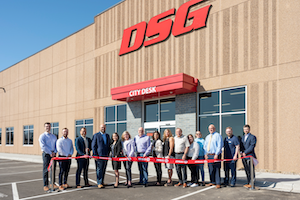 DSG has been serving customers in Monticello and Otsego for several years and moved from the previous Monticello location to its new location at 7505 Kadler Ave NE, Otsego. The new facility has expanded the company's services to the plumbing, waterworks, on-site sewer, water, and well, HVAC, and electrical needs in this growing area.
"DSG's strength comes from within – a people-centric organization that is passionate about serving others, from their fellow employees to the thousands of customers, and the various communities they operate in, DSG's foundation is built on respect, teamwork, and growth," said Paul Kennedy, president and CEO.