Posted April 13, 2022
MSC wins ISA Innovation Impact Award
MSC Industrial Supply Co. was awarded the ISA 2021 Innovation Impact Award People's Choice at ISA22.
---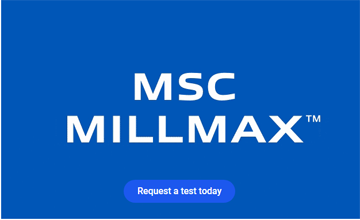 MSC was one of four finalists that made the cut for the award that honors the Distributors, Manufacturers, IMRs, and Service Providers who bring new, innovative products or services to the industrial MROP channel. Each year, the award is voted on by industry peers.
MSC earned the award for its innovative MSC MillMax service. MSC MillMax takes the guesswork out of optimizing milling applications by combining the knowledge of the MSC's professional metalworking specialists with proprietary impact-testing equipment and software to maximize CNC milling productivity.
"We are honored to receive the ISA 2021 Innovation Impact Award on behalf of MSC, our partners at Oak Ridge National Laboratory and the individuals who developed the technology," said Jamie Goettler, sr. director, Metalworking Sales & Innovation. "More importantly, we're pleased that this innovative service is helping to improve the performance and efficiency of our customers' milling operations as they look to reduce costs and improve productivity."
MSC MillMax originated through a cooperative research and development agreement with the U.S. Department of Energy's Oak Ridge National Laboratory (ORNL) to improve the competitiveness of U.S. manufacturers. MSC MillMax has helped hundreds of manufacturers improve profits by millions of dollars through increased material removal rates, reduced cycle times and improved capacity and efficiency. For additional information about MSC MillMax®, please visit www.mscdirect.com/solutions/millmax.