Posted May 1, 2023
Danfoss Power Solutions names division president
Danfoss Power Solutions, a global supplier of mobile and industrial hydraulics as well as electric powertrain systems, has appointed Andrew Smulski as the new president of its Fluid Conveyance division, effective immediately.
---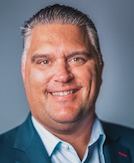 Previously senior vice president of distribution sales, Smulski will continue to serve as a key member of the Power Solutions leadership team and will continue reporting directly to Eric Alström, president of Danfoss Power Solutions. He is based at the company's campus in Eden Prairie, Minnesota.
Smulski has a proven track record in leading large organizations and developing and implementing strategies across regions. This experience will be advantageous as he takes on overall responsibility for Fluid Conveyance activities globally.