Posted May 2, 2019
DPA Buying Group names award winners
The DPA Buying Group announced the winners of its top awards handed out during the group's recent buying and networking conference.
---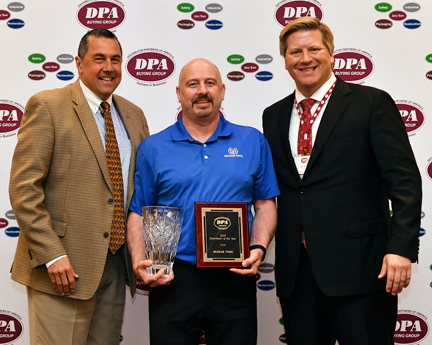 David Maddock of Mahar Tools, Saginaw, Michigan, was presented the 2018 Industrial Distributor of the Year Award by DPA's Jeff Tishko and Zachary Haines.
The 2018 Industrial Distributor of the Year Award was given to Mahar Tools, Saginaw, Michigan, while Brighton-Best International / Ironclad Performance Wear, Long Beach, California, received the Supplier of the Year award.
This year's recipient of DPA's Industrial Excellence Award, presented to a person or company that demonstrates extraordinary support of DPA and overall industry excellence, was Alfa Tools, Morton Grove, Illinois. Alfa Tools was founded in 1977 and is a supplier of cutting tools, fastener drive tools, and abrasives.
"Alfa Tools has experienced considerable sales growth with DPA members. They are a valuable DPA partner and very deserving of this honor," said Zachary T. Haines, DPA CEO.
Five DPA industrial distributors were honored with special membership-milestone pins at the group's awards banquet held in Indianapolis on April 17. The following companies were recognized for hitting the five-year milestone: Hartville Contractor's Supply, Hartville, Ohio; Advanced Industrial Solutions, Collinsville, Oklahoma; Unlimited Supplies Inc., Plymouth, Minnesota; H. Gerhardt Supply, Pittsburgh, Pennsylvania; and Olson Contractors Supply, Bloomington, Minnesota.