Posted May 3, 2021
Manufacturing growth slowed in April
Manufacturing grew at a slower pace in April than in March.
---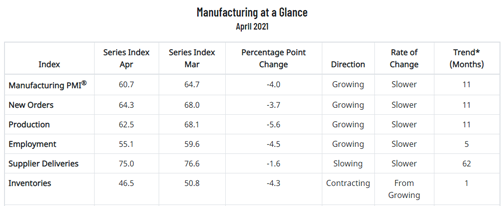 The Institute for Supply Management's monthly manufacturing index registered 60.7 percent, a decrease of 4 percentage points from the March reading of 64.7 percent.
This figure indicates expansion in the overall economy for the 11th month in a row after contraction in April 2020.
"Survey Committee Members reported that their companies and suppliers continue to struggle to meet increasing rates of demand due to coronavirus (COVID-19) impacts limiting availability of parts and materials. Recent record-long lead times, wide-scale shortages of critical basic materials, rising commodities prices and difficulties in transporting products are continuing to affect all segments of the manufacturing economy," said Timothy R. Fiore, chair of the Institute for Supply Management Manufacturing Business Survey Committee.