Posted May 8, 2023
AD Bearings & Power Transmission celebrates winners of Spirit of Independence Awards
AD Bearings & Power Transmission held its annual Spirit of Independence Awards on March 23 in San Diego during the division's 2023 North American Meeting. The awards recognize Bearings & Power Transmission members and suppliers for growth performance, conversions, market planning, workplace excellence, and giving back efforts.
---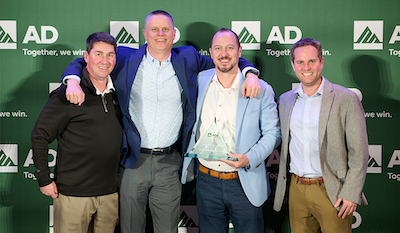 AD celebrates with IBT Industrial Solutions after being awarded
AD BPT Member of the Year. Left to right: Joseph Purcell,
Darin Davenport, Jeffrey Cloud and Brooks Bentz.
"The Spirit of Independence Awards show celebrates our community of members and suppliers for their independent spirit and dedication to being the best," said Darin Davenport, vice president, bearings & power transmission division. "This opportunity for all of us to get together and honor each other reminds us how valuable our partnership and connections are for our mutual success."
Davenport started the ceremony recognizing Jeff Mattson, president & COO, ISC Companies, whose divisional board term ended in 2022. Mattson had served on the division's board since 2017 supporting the division's membership in their growth and partnership goals.
The Best Annual Planning Process award recognizes the member company that plans and implements the most effective strategies of engagement with their supplier partners, demonstrating marketing strength and utilizing AD programs to boost their businesses. The Best Annual Planning Process winner was Bearing Service, Inc. for its growth incentive program and close collaboration with their Field Marketing Summit partners.
The Best Conversion to an AD Supplier award goes to both an AD member and AD supplier who partner together to convert sales from a non-AD supplier to an AD supplier. The winning companies were Baldwin Supply Company and NORD Gear Corporation for a conversion of over $700,000 for a single product line.
Member Performance and Member of the Year awards recognize members who significantly grow their purchases from AD suppliers and engage in strong partnership within the division. The following companies received Member Achievement awards:
AD BPT Member Performance Tier 1: Van Meter Inc.
AD BPT Member Performance Tier 2: Cathey Company
AD BPT Member of the Year: IBT Industrial Solutions
Supplier Performance and Supplier of the Year awards celebrate highly engaged supplier partners who increase purchases from members and widely participate in AD programs. The following companies received Supplier Achievement awards:
AD BPT Supplier Performance Tier 1: North American Electric, Inc.
AD BPT Supplier Performance Tier 2: Van Gorp Corporation
AD BPT Supplier of the Year: Nachi America
The AD Marketplace Supplier of the Year award celebrates a supplier partner who meets the highest quality of standards for their AD Marketplace store. The 2022 award was given to Solve Industrial Motion Group.
Each year, the division honors member and supplier companies that go above and beyond in supporting their people. The Best AD Workplace Recognition goes to companies that achieve a minimum engagement score of 85% in a third-party survey or are recognized regionally or nationally as a "best place to work." The 2022 Best AD Workplace Recognition recipients were CBT Company and Kimball Midwest.
For the final award of the night, Davenport presented the AD Giving Back award, which celebrates a member or supplier who empowers their employees to give back and prioritize the health and success of their community. This year's award went to Van Meter Inc. for their GRAND IMPACT grant program, providing $100,000 to Matthew 25's Cultivate Hope Corner Store, a nonprofit grocery store whose mission is to bring healthy, nutritious, and affordable food to a local food desert neighborhood.
Before closing out the show, Davenport recognized George Graham, president of AD Member Supply, for his contributions to the AD community, and to the BPT industry. Graham has served in his role at AD since 2019 and retired on March 31, 2023.