Posted May 12, 2023
Sandvik Coromant employee recognized for workforce advocacy
Dayton Region Manufacturers Association (DRMA) recently honored Garry Jankowski, application specialist at Sandvik Coromant, for his efforts as one of its most active career event volunteers. Jankowski has dedicated countless hours to introducing students and young people to careers in manufacturing as part of his more than 20 years volunteering with DRMA.
---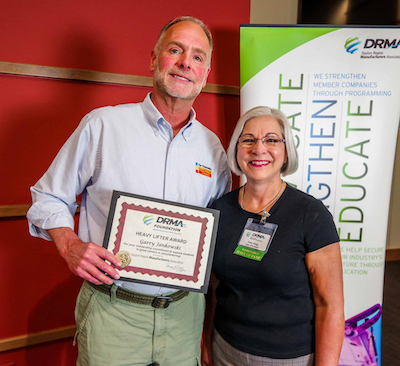 DRMA spearheads workforce development initiatives to strengthen the Dayton Region's manufacturing industry and address member company concerns about finding qualified workers.
As a representative of member company Sandvik Coromant, Garry volunteers on various committees that work to promote careers in engineering and manufacturing. Garry's commitment to and participation in DRMA's career awareness efforts through activities such as career fairs and "power lunches" are vital. These activities collectively work to raise awareness about manufacturing careers and prepare current and future generations of workforce for the skills and jobs of the future.
A power lunch brings the message directly to students through a presentation table — typically in the cafeteria — which allows volunteers to engage students directly, highlight the diverse types of skill sets needed within manufacturing and detail the next steps to their success.
"My involvement goes back more than 20 years and equates to nearly 62 hours per year, starting with helping the association develop a battling robot league for high school students to 'grab their attention' and experience how engineering and manufacturing are applied at a practical level," said Jankowski. "In recent years, my major focus has been delivering the message directly to our young people at middle and high schools at career events organized by DRMA."
"Garry is receiving our Heavy Lifter Award, which is given to volunteers who have worked the most career events in the previous calendar year. This is Garry's second year receiving this award," said Shay Knoll, DRMA administrative and membership services specialist. "Garry is consistently one of our most active volunteers. We are so grateful to have him interacting with students about careers in manufacturing."
Garry's exemplary efforts with DRMA were recognized by receiving an award at the organization's Shoptalk event, designed to raise funds to make the organization's workforce initiatives even more impactful. The event took place on May 11, 2023.