Posted May 13, 2023
Bosch and partners launch multi-brand battery platform
On May 16, Bosch Power Tools, with founding partners FEIN and Rothenberger, announced the launch of AMPShare – Powered by Bosch now available in the U.S. and Canada.
---
The global, multi-brand battery alliance advances these companies' shared vision for battery efficiency, offering trade professionals a wide-reaching 18V power system that's compatible across brands, applications, and countries. This launch expands on the previously-launched AMPShare platform in the EU in 2022.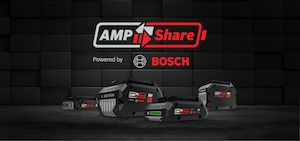 The AMPShare – Powered by Bosch battery system offers advanced battery design and fast charging to support workers across a variety of applications.
"At Bosch, we remain committed to making hard work easier for professional workers by delivering quality products, offering full-system solutions and equipping a truly cordless jobsite," said Robert Hesse, president and CEO of Robert Bosch Tool Corporation. "AMPShare is the creation of our common vision to create power efficiencies for workers, no matter the task at hand, and pushing industry technology forward. It's a cordless system that professional workers can build on."
In addition to the founding partners, 12 additional brands join the alliance with products launching in 2023 and/or 2024: HONSEL, Ledlenser, Mato, Medmix Cox and MK, Orgapack and Signode, PerfectPro, Steinel, Bosch Rexroth Corp, Titan, and Wagner.
The AMPShare battery is the current Bosch 18V battery that workers in the U.S. and Canada have relied on. The physical batteries have been updated to include the AMPShare branding. Alliance member brands are adopting this battery platform for selected tools, thus increasing the platform's compatibility by allowing professionals to use the same powerful 18V battery platform with additional cordless tools.
"As a leading manufacturer in our industry, our team at Rothenberger is proud to bring an expertise in joining, installing, and maintaining pipes to the AMPShare alliance," said Kevin Rewerts, president and managing director at Rothenberger USA. "Focused on creating maximized value for our user through the quality of our products, AMPShare allows us to provide the best pipe tools, including batteries, with extended compatibility and leading technology to power a range of products."
For the team at FEIN, the AMPShare – Powered by Bosch alliance represents another milestone within its collaboration with Bosch Power Tools, following the joint-creation of the Starlock universal mount system for oscillating multi-tools in 2016. "AMPShare is a natural evolution of our partnership with Bosch, with whom we share the drive to discover and elevate powerful solutions," said Bill Craig, president of FEIN Power Tools U.S. "Through AMPShare, we can strengthen our lineup of cordless tools and reinforce our vision. We look forward to bringing that to users across the North American market throughout 2023."
In addition to compatibility, other features and benefits include:
Leading Battery Technology: Within the AMPShare System, a range of batteries with CORE18V technology delivers an optimal power-to-weight ratio, high-power performance, and COOLPACK 2.0 heat management technology for longer lifetime compared to AMPShare batteries without this technology.
Professional Expertise: Created by the expert brands in their respective fields, users can be confident in the AMPShare – Powered by Bosch system when used across applications.
Save Time, Money & Space: Leveraging AMPShare batteries across applications and tools allows users to save space in their toolbox, as well as time and money through fewer battery and charger purchases.
The AMPShare branded battery platform will begin rolling into various retailers and distribution partners throughout the U.S. and Canada beginning in June. For more information, visit www.boschtools.com.