Posted May 14, 2020
Weekly Pandemic Revenue Index shows signs of stabilizing
While still measuring in double digits, the weekly Pandemic Revnue Index may be showing that revenue declines are stabilizing.
---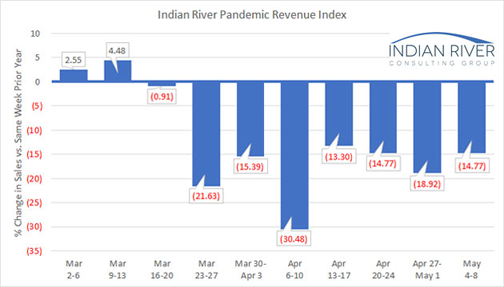 Indian River Consulting Group's (IRCG) weekly Pandemic Revenue Index for the work week of May 4-8, 2020, indicated a 14.8 percent decline compared with the same week a year ago. That compares to a decline of 18.9 percent the previous week.
IRCG's distributor Pandemic Revenue Index gives distributors a weekly quantified view into how other distributors in the industry are faring with respect to revenue declines as the global COVID-19 pandemic progresses.
"The last four weeks have seen some consistency with declines between 13% and 19%, and the variance among the participating companies is getting smaller. The two greatest declines are now more than a month old, so hopefully we're seeing a stabilizing and slightly upward trending market. Only time will tell," said Mike Emerson, IRCG Partner.
Find free resources for distributors on responding to the pandemic, including a cash flow modeling spreadsheet and instructional webinar, and a cost-reduction planning webinar, at IRCG's website: ircg.com/stress-testing.