Posted May 20, 2020
Dynabrade mourns loss of founder
Walter N. Welsch, founder of Clarence, New York-based power tool manufacturer Dynabrade Inc., died May 16, 2020. He was 96.
---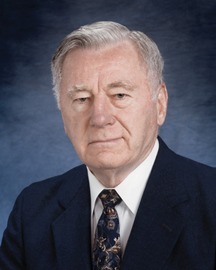 Born in St. Paul, Minnesota, one of nine children, he graduated from St. John's University in Collegeville, Minnesota. In 1951, he joined the Minnesota-based abrasive manufacturer, 3M where he was a sales representative based in Tonawanda, New York. While calling jukebox manufacturer Wurlitzer, he developed an idea for replacing tedious hand filing with a power-actuated abrasive belt filing machine, the now infamous Dynafile, an industry leading material removal tool.
He founded Dynabrade in 1969, and led the company from its North Tonawanda, New York, location on Payne Avenue to its current 150,000 square-foot global headquarters in Clarence, New York. In addition to its headquarters, Dynabrade has sales and warehousing facilities in Europe and India.
Dynabrade employs nearly 300 people worldwide and recently celebrated its 50th anniversary in 2019. Last year, the company's management dedicated its training center in honor of him.
"Wally leaves behind a great company, but even more so, a legacy of optimism, ethical behavior and true American entrepreneurial spirit that will serve as his greatest accomplishments," said Hardy Hamann, company president and CEO. "For all his achievements, as an inventor, entrepreneur and business leader, we will remember Wally most for his strong and caring personality, his great sense of humor and his passionate support for his family and all of our employees. He will be missed and warmly remembered by his family and Dynabrade employees all around the world."