Posted May 21, 2020
Pandemic continues to plague distributor revenues
Distributor revenues continue to suffer as a result of the coronavirus pandemic.
---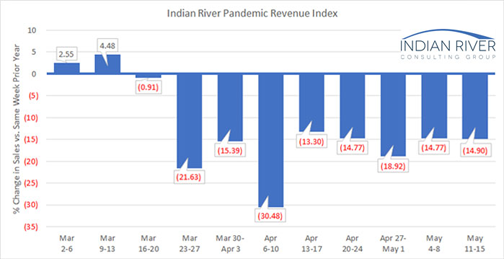 Indian River Consulting Group's (IRCG) weekly Pandemic Revenue Index for the work week of May 11-15, 2020, indicated a 14.9 percent decline compared with the same week a year ago. This week's results were similar to the 14.8 percent decline in the prior week.
IRCG's distributor Pandemic Revenue Index gives distributors a weekly quantified view into how other distributors in the industry are faring with respect to revenue declines as the global COVID-19 pandemic progresses. We now have eight weeks of double-digit average declines and five consecutive weeks with declines in the mid-teens.
"Participating companies are not displaying much volatility. Those that generally have the larger declines continue to have the larger declines and those that have been almost flat are continuing on that trajectory," said Mike Emerson, IRCG Partner.
Find free resources for distributors on responding to the pandemic, including a cash flow modeling spreadsheet and instructional webinar, and a cost-reduction planning webinar, at IRCG's website: ircg.com/stress-testing.