Posted May 22, 2023
Epicor rolls out AI-enabled capabilities for customers
During its Insights 2023 user conference May 16–17, Epicor, a global provider of industry-specific enterprise software, unveiled its vision for the connected data supply chain to help distributors as well as manufacturers optimize their own operations and more closely collaborate with trusted partners and industry ecosystems for a dynamic and responsive supply chain.
---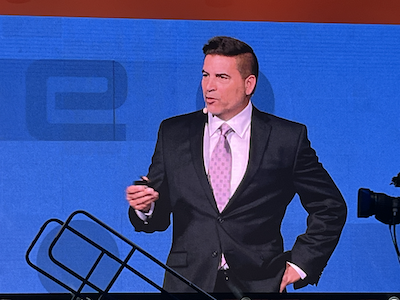 Steve Murphy at Epicor Insights 2023.
"To be successful in today's marketplace, Makers, Movers, and Sellers must make data-driven decisions faster and with greater accuracy. It's all about the right insights, in the right place, at the right time," said Epicor CEO Steve Murphy. "Epicor is delivering the digital foundation to help give our customers an insight advantage, supported by our deep industry expertise, powerful data analytics, and emerging AI capabilities that will help pave the road to a more resilient and predictable global supply chain."
Business leaders know that operational insight is key to unlocking business value. But getting to those insights – whether it's within their own enterprise or across their supply chains – is a pervasive challenge. Many contend with managing overwhelming amounts of data, proliferation of data siloes across their organizations, as well as disconnected processes and lack of data transparency with trading partners and suppliers.
According to the most recent Epicor Industry Insights Report, nearly 70% of enterprises surveyed said they are looking to their ERP provider as an expert partner and resource to help them navigate a variety of data management and integration needs. In addition, more than 80% of respondents indicated they are interested in exploring and investing in the latest technologies to help them optimize and grow their businesses.
Through the company's leading Industry ERP Cloud platforms grounded in contextual business intelligence, Epicor is positioned to help organizations across manufacturing, distribution, retail, building supply, and auto environments adopt a data-first strategy that lets them integrate internal and external data sources and interpret signals and indicators both within their business and across supply chains. In doing so, they can gain actionable insights to optimize and automate business flows and drive time-to-value.
During Insights 2023, attendees saw several use case demonstrations that showcased the company's data supply chain approach in action, including:
Grow, the Epicor Data Platform – At the core of the connected Data Supply Chain is Epicor Grow, the company's full-stack, no code / lo code BI platform that combines data integration, warehousing, and visualization into one easy to use solution. This allows users across the business to quickly build the visualizations they need to make fast, informed decisions based on data from Epicor platforms and thousands of external data sources and apps.
Predictive Analytics Powered by ChatGPT – Through its collaboration with OpenAI, Epicor is combining the power of ChatGPT with its industry expertise to deliver predictive analytics and contextual recommendations via the intuitive Epicor Virtual Agent (EVA). Epicor users can save valuable time analyzing information across both internal and external data sources by simply querying EVA to quickly uncover the answers they need to make informed decisions.
Supplier Integration Across Industry Ecosystems – By integrating internal and external data sources using Epicor Prophet 21and Grow, companies can gain key insights across their supply chains, such as access to real-time inventory levels and pricing data within a supplier community, as well as automatically generated supplier performance scores to help select the best vendor to meet quality, delivery, and timing needs.
People-Centric Automation and Experiences – Epicor is bringing together the entire Make, Move, and Sell value chain by showcasing how its technologies are helping optimize and improve the worker experience using automation and intelligent recommendation, from customer part configuration and ordering, digital work instructions on the shop floor, delivery, and field service.
"This is an era in which cloud computing, business intelligence, and AI can be applied at scale to transform the way we solve some of our biggest challenges," said Epicor Chief Product Officer Vaibhav Vohra. "We're empowering our customers' workforces – from the top floor to the shop floor – to tap into a world of innovative possibilities for how workstreams and collaboration across the essential industries get done."
Epicor Insights 2023 in Las Vegas brought together more than 3,000 customers, partners, and influencers to connect, learn, and explore possibilities in using Epicor solutions.