Posted May 29, 2020
Weekly Pandemic Revenue Index shows signs of improvement
The coronavirus impact on distributor revenues may be showing signs of improvement.
---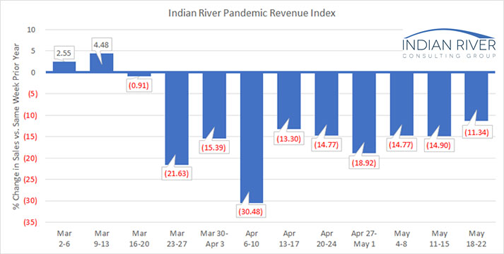 Indian River Consulting Group's (IRCG) weekly Pandemic Revenue Index for the work week of May 18-22 indicated a 11.4 percent decline compared with the same week a year ago. That decline is down from a 14.9 percent drop in the prior week.
IRCG's distributor Pandemic Revenue Index gives distributors a weekly quantified view into how other distributors in the industry are faring with respect to revenue declines as the global COVID-19 pandemic progresses. We now have nine weeks of double-digit average declines. The 11.4 percent decline represents the smallest decline since mid-March.
"With the lifting of stay-at-home orders occurring to some degree in all 50 states, it will be interesting to see if next week's sales trend improves on this week's trends," said Mike Emerson, IRCG Partner.
Find free resources for distributors on responding to the pandemic, including a cash flow modeling spreadsheet and instructional webinar, and a cost-reduction planning webinar, at IRCG's website: ircg.com/stress-testing.