Posted May 31, 2023
Kennametal tools published in Lockheed Martin machining guide
Kennametal Inc.'s HARVI solid carbide end mills will be included as a preferred product in Lockheed Martin's internal machining guide. Produced by Lockheed Martin Aeronautics' Operations Technology group for internal operations and engineering, as well as global supply-chain partners, the resource identifies the most effective parameters and processes for machining material-specific aerospace components.
---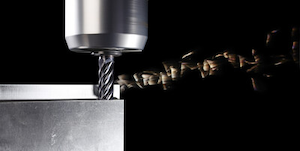 "We're honored to be a longtime supplier to Lockheed Martin and to have our HARVI III metal cutting end milling portfolio featured in one of its most invaluable machining guides," said Keith Mudge, Kennametal vice president metal cutting sales, Americas. "We work closely with customers like Lockheed Martin to problem solve and deliver the utmost accuracy in machining. Inclusion of HARVI end mills in this internal resource is a testament to our commitment in the industry and our high standard of excellence."
Headquartered in Bethesda, Maryland, Lockheed Martin Corp. is a global security and aerospace company that employs approximately 116,000 people worldwide.